Yet again, this Friday is acting like it's waited all week to show its butt for news:
1. Lance Armstrong gave up his fight against his doping allegations and is no longer a 7-time Tour De France winner and is banned from cycling. They're saying that his choice to not pursue arbitration triggers the ban and stripping. This is harsh for him. He made his money from endorsements related to cycling. His foundation is dependent upon his brand staying untainted with regard to his athletic skill. What will happen to him now? Can he excel at other sports at 40?
2. Some guy who got laid off from his job showed up at the office and shot his boss in the face. Either he opened fire on others in the vicinity or cops started shooting at him. Either way, two people died and others are wounded, one critically. The others were shot by the shooter or by the police (stray bullets). The shooter is not only laid off, but was judged today for his crimes by God as he was shot dead by the police. I'm sure he thought the day couldn't get any worse, but he was proven wrong. Prayers to the victims' families. Yeah, we need to talk about gun control because aside from this happening within a month of the movie theater massacre, the shootings at the Sikh temple and the FRC headquarters shooting, Chicago has had its worst homicide year on record. Nineteen people were shot in Chicago last night alone, but because they are poorer and of a different race than White, they're not reported on unlike others who don't meet that description.
3. Mitt Romney has gone full-blown Birther today. I thought we had until October for that. Romney stated that no one has ever asked for his birth certificate because everyone knows that he was born "here" (meaning Michigan). His campaign said it was a joke. Obama campaign says it was him embracing birtherism. Either way, it's clear that Romney is pandering to gutter scum and I don't like seeing that in a presidential candidate. It makes me nervous that he won't consider folks like me as he claims to represent all Americans. At this point all that's left is the n-word to spill out of the Romney camp, all racist-GOP-everything will be confirmed, and hopefully the links between everything will be easily seen, drawn, and dealt with at the polls. I hope that comes sooner than later.
4. Usher Raymond has been awarded full custody of his two sons he has with Tameka Foster. Is it rare for a father to be awarded full custody? This has been a horrible custody case and it's been painful to watch both of them act the way they did in court, but it appears resolved. Usher has full custody and Tameka's rights are still being defined. I know this is hard for her especially after burying her 11 year old son Kile almost 4 weeks ago.
5. The team was told they could go home early but we're working mandatory overtime. So, I asked about it and while the team did go home early (and someone left early for a vacation), I was told to still work the overtime hours. One day, Lord willing, I'll write a dramedy about all of the nonsense that occurs here. It will be a hit, will launch the careers of many fine actors, writers, and producers, will garner me more fame and money, and will be a critical hit that gets high ratings, stays on a high note long enough to enter syndication in virtually all U.S. markets, and receives many, many awards.
That's all from me. Enjoy this pic of Joe Manganiello from True Blood playing Alcide. Enjoy your weekend. Alcide looks like he's ready for it.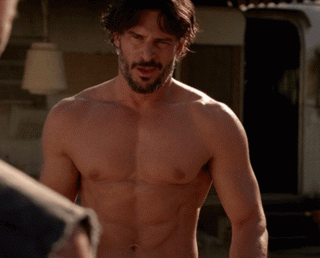 Category: About Me, Conservatives, Entertainment, Issues, News, Politics