Two stories about gay issues today. While on vacation last week, I was perusing Twitter (as I normally do, but feeling more caught up this time than before). It was a Friday night and I was not out and about. I saw some anger on my timeline directed toward Azealia Banks. I couldn't figure out why anyone would be mad at her. I mean, I can't name one song that she's released, but I know that she is a self-proclaimed bisexual rapper. If this is like Nicki Minaj/Tila Tequila bisexuality, Azealia can have a seat. I might let her cook if it's Andy Dick bisexuality, which I believe is real.
Anyway, Azealia was in a Twitter beef with another rapper, as rappers tend to do on Twitter when forced to do so by their labels to generate drama, views, and translate that into sales, when Perez Hilton jumped into the mix and attacked Azealia. Azealia then replied with the following, calling Perez out of his name.
Perez took to Twitter to retweet everything she said to him afterwards. It wasn't pretty. Azealia started hearing from Twitter about her choice of gay slur. She clarified that she meant an effeminate woman, and not a gay slur. After resorting to inventing definitions for things, she said that she was signing off and that Twitter would be okay after a good night's sleep.
Few things:
1. Azealia Banks's career has been dependent on gay people. She's bisexual (self-proclaimed-ly) and has spoken out in support of things like gay marriage and…gay marriage. (It's something, I guess.)
2. I know more about this Twitter beef with Perez Hilton than I know about Azealia Banks's musical talent. What are you doing with your life when your antics are more known than your songs, musician/singer/entertainer? Really. What songs of hers have I heard?
3. I know Perez Hilton gets lots of love and support when he's victimized (even when he brings it on himself), but I kinda found myself doing this when trying to think of something to say to dispu– *signal fades*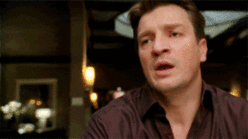 *Service is restored*
The other news comes from Miss "If you don't want me then don't talk to me" herself, Fantasia Barrino. Fantasia said the following on Instagram about people commenting on her life.
Fantasia, Fantasia, Fantasia. Girl. Hold on, it gets better. She tried to explain herself in another Instagram post.
So, Fantasia Barrino, she of the had-a-child-by-a-married-man-who-ran-out-on-her-to-go-back-to-his-wife-and-then-dip-out-on-his-wife-for-a-reality-show-woman is catapulting boulders from the roof of her glass house now? Then she's trying to explain it by saying that she is in favor of gay people because her team and manager are gay? "I was just saying the Bible says to not do a lot of things that we're doing."
No, you were saying that gay people getting married and people smoking weed is worse than anything you've done in your past. It would sound and be better if you'd admit to your past and own your present along with saying, "We all make mistakes and have fallen short. I'm no different from you, and you're no different from me. We all have dirt," or something like that. Finally, you're the person that blew it up because you posted it to your public Instagram account!
Were you expecting an amen corner from that post? Where was your choir, boo? You make most of your money today from gay people and gay venues. The gays love you. You're like the next Patti LaBelle if you can get marketed right. But you can get kicked out of the gays' good graces just like Patti LaBelle's pumps at one of her concerts. If you don't want the gays, just go ahead and free yourself. Walk away with your baby-making hips. I'll stop invoking your lyrics, but I had to take it there. I had to take it there.
It is unfortunate that Azealia Banks and Fantasia feel that it is okay to pick on gay people like that. The Bible says many things, but I can't recall where it says "Yea, verily, weigh your sins against another's and report back the heaviness of their side of the scale. Betwixt the twain shall ye find validation." Is that in III Hezekiah, Chapter 13?
Category: Gay