FYI: For those who don't know, Black Greek Letter Organizations (BGLO) are typically called "The Divine Nine" and they consist of historically black fraternities: Alpha Phi Alpha (Alpha), Kappa Alpha Psi (Kappa), Omega Psi Phi (Que), Phi Beta Sigma (Sigma), Iota Phi Theta (Iota), and historically black sororities: Alpha Kappa Alpha (AKA), Delta Sigma Theta (Delta), Zeta Phi Beta (Zeta), and Sigma Gamma Rho (SGRho or Sigma). They are global service organizations that have social aspects to them. BGLOs have done a lot of good in the world. They were integral parts of the Civil Rights Movement in the United States. MLK Jr. was an Alpha man and Coretta Scott King was an honorary AKA.
In college, I was close to several Alphas, AKAs, and Zetas, and still keep up with many of them. I've befriended several post-college and have a few Greeks in my family. They were all appalled by the VH1 show Sorority Sisters. The show is another Mona Scott-Young production (she who executive produces the oft-classless Love and Hip-Hop shows) that showcases black women in a negative light. The show may not be coming back after a successful advertiser boycott threat campaign by members of BGLOs. VH1 will be showing the rest of the episodes on 1/16/2015 and made no announcement about a second season. They said they would not cancel the show weeks ago, but it seems they are quietly letting it bleed out before announcing they're not bringing it back.
The cast had members from each sorority listed above. They were not directly stating which sorority of which they were members, but if you know secrets of a sorority that only other members know, you know exactly where each one has membership. Two AKAs were suspended nationally for over a year for participation in the show. To boot, the women were also typically as ratchet as they could be for a Mona Scott-Young show. I know and love some men and women who are part of the Divine Nine who regularly tune into The Real Housewives of Atlanta and every iteration of Love and Hip-Hop and live for the fights and drama. They are huge fans of Delta woman and ratchet acting (at least on-camera) K. Michelle. When I asked some of them why they had a problem with Sorority Sisters, they said these women were giving BGLOs a bad name by acting as they were acting on-camera and indirectly referring to their organizations. (Yep, they weren't even directly naming their organizations. You had to be in the organization to know their coded messages that the public would not know unless they got their hands on a membership book.)
I asked how their acting on camera differed from being a member of a BGLO when you're turned up at the bar and freaking everyone in sight without your letters on. As a GDI (g*****n individual – as they call those of us not in a BGLO) looking in from the outside, it appears to be the same thing. Ratchet is ratchet is ratchet.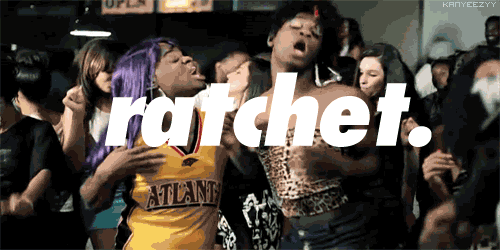 Fine, be the people who change the world through your good work done in your BGLO. But don't suddenly get upset at a show showing black women in a negative light just because they are publicly and indirectly known members of your organizations. The "K. Michelle doesn't represent Delta when she's on the show" excuse doesn't fly with me because she represents it everywhere else in interviews and publicity for the show and her albums and she still acts like she does on her shows. Once you're a member, you're a member for life, no matter where you go.
You're allowed to be silly and human; however, I don't like the double standard of some of y'all watching these ratchet shows religiously and suddenly just now having a problem with it because your sister wearing the same letters and colors as you and is acting up for the world to see. How is it just now an embarrassment? How is something on the micro level worse than how you've been portrayed on the macro level for years? You're a woman first. You're an AKA, Delta, Zeta, or SGRho after that. Black women have been misrepresented on reality television for years and there has been no BGLO campaign coordinated to get rid of these shows, but you pick on this one show that includes your group? That doesn't sit right with me.
What should happen, and I hope it does, is that BGLOs use their obvious organizing power in other good ways to get other shows like this off the air or make changes to existing ones. BGLOs do a lot of good locally and globally and since you've made a national stink about this one show, it would be nice to see a start to expand in this area to do good work locally and globally in depictions of our own kind on television. I've got nothing but love for y'all – you're my good friends and a few beloved cousins – but don't stop here and think you've done a complete job. This goes beyond you and beyond this moment. If you're here to uplift all mankind and womankind, you can't just limit it to a short-lived and poorly conceived show on VH1 whilst other shows are still here tearing us down.
Category: Entertainment, News, Politics